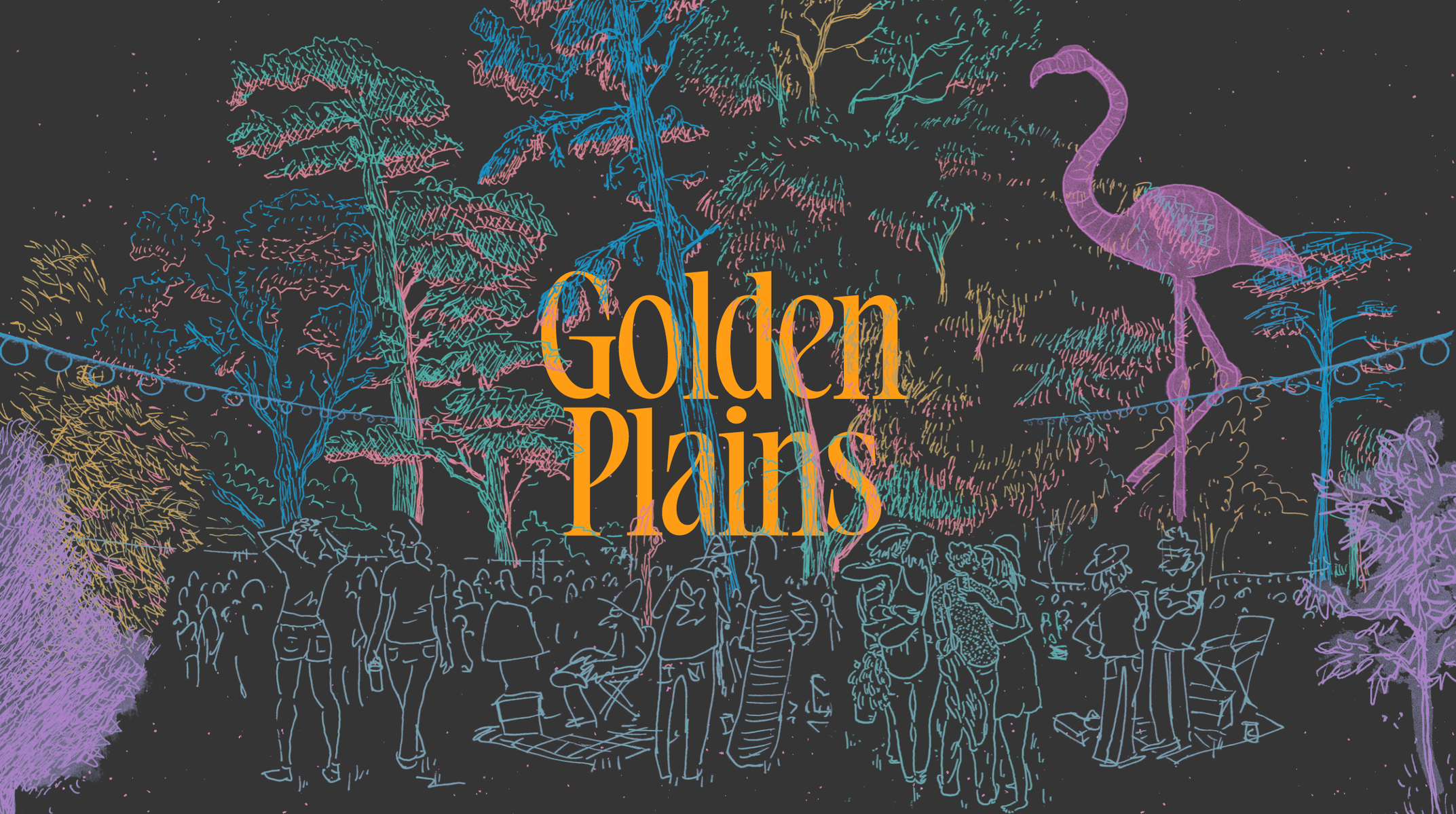 Absolutely Golden!
A weekend full of just that, what more could you possibly ask for? As the weekend commenced, I expected thumping sounds of bass that would inevitably play all weekend long. Head-pounding, heart-racing, sweat-inducing music, but instead was invited by a hum of eager voices setting up their camping gear for the weekend that softly grew into sounds of guitar strings, drums, and melodies that had a BPM no greater than 100. I called "Rubbish Road" my home for the next 2 days and surrounded myself around humans who cared, loved, and danced hard for the entire weekend.
A smoke ceremony led by a Wadawurrung man name Uncle Barry Gilson and his call-and-response chants with the crowd was the perfect way to introduce the start of something beautiful. This set the tone for the week: respect, kindness, and honor of those around you and events that once were and will ever be. It was easy to catch the eyes of humans and feel an energy exchanged that required no words, only a mutual understanding of how impactful this moment was. I left all my expectations at the door.
And on that second and final full day when that tiny piece of colorful paper was consumed, there was a general consensus that Golden Plains was the environment to be unapologetically yourself. It seemed as if Soichi Terada himself conducted the beginnings of our trip and orchestrated a symphony of bliss and juvenile, playful behavior necessary to carry on our evening. A collective cheer erupted as he closed out his set leaving every human feeling united. Most of us cried in unison, and I personally couldn't believe for the first time in a long time, I was starting to feel like myself; The Deenie who takes off her mask and radiates grounding and strives for harmony. And while it could've been the influence of substances or overarching feeling of camaraderie throughout the crowd, safe…home…were the vital words that described the main purpose of that weekend.
I spent so much of that final morning harping over the fact that someone I had been falling for had done something that felt synonymous to disrespect. The previous night while Overmono created stellar music out of literal scratch, the impeccable visuals on that stage lit up the night sky and every face in the crowd including the two that had hurt me very much. I expected so much for him. How could he do this to me? Over and over again I wanted to relive that scenario several different ways to discover any other outcome. But like all expectations, they're most likely bound to do the exact opposite, leaving you with disappointment. What point is it to relive the past or concoct unrealistic scenarios and expectations when the present is what it needs to be in every perfect way? Flaws and all.
Grief turned into blissful entertainment when I had finally accepted that I was exactly where I needed to be in all of these situations. I stripped down to my final form. I was myself surrounded by beautiful, vulnerable people who choose to accept me for who I am every single time: a Disco Queen, my French Black Sister, the Bubbliest American Babe, a Norwegian Sweetheart, and Two of Australia's Most-Wanted Gentleman. Strikingly and unapologetically themselves. Love in human form.
The night crept up on us and before you know it, Carly Rae Jepson projectile vomited colorful confetti into the sky which set the tone for the night. Prior, Soul II Soul serenaded our ears with steezy rhythm and blues and pumped the bass to "Back to Life" (a moment that certainly was not on my life bingo card!). Cut to the Feeling of being 17-years-old. "Call me Maybe" playing on every radio station. It was happening. We all laughed and sang our hearts out. Four Tet commenced his three hour set that shivered every spine. Bodies wiggled itself all over the dance floor like zombies on ketamine. I asked my favorite dear English brother what time it was in which he appropriately responded with such nonchalance "it's time to get silly." It writes itself! From this point on we all found ourselves somewhere resembling earth but definitely appeared otherworldly. Every tune Mr. Hebden played made so much sense. Every drop from Ariana Grande's "Into You" to tracks on Skrillex's new album "Don't Get Too Close" was purposely paired with exactly what my brain and body needed to feel.
And as the sun began to rise, Rick Wilhite's wicked set came to a conclusion with the oh so delicious tune "Blue Monday." Good Morning! Good morning it certainly was. That moment, that weekend, those compilation of moments were close to perfection.
Why is this happening to me? Throughout the highs and lows of this festival, throughout all the tears and euphoria and connections made, this was happening to me. Undeservingly or not, I couldn't have felt any more blessed to be experiencing it. And when a desperate need for a dopamine hit is needed, this core memory will be unlocked for years to come.
To Golden Plains,
I want to thank you. Thank you for attracting people who strive to be kind first. Thank you for making me feel safe enough to shower naked in front of 20+ strangers and feel safe enough to be the little girl I miss so very much. Thank you for allowing my friends to express themselves however way they choose to and for creating an environment of peculiar silliness. For allowing access to different dimensions and inviting us back into reality with open arms. Thank you for providing a space that oozes authenticity. Thank you for honoring and acknowledging stolen land and educating my ignorance. Thank you for feeling like home, and thank you for being golden.
Lovingly,
D